PowerCad Partner With BIM-MEPAUS
PowerCad is proud to announce that we have entered into an agreement with BIM-MEPAUS to develop and enhance the multi-discipline aspect of the BIM-MEPAUS Initiative and therefore meet the evolving needs and complex requirements of today's construction projects in the building services industry.
This collaboration will benefit consultants, contractors and suppliers by allowing reduced project costs through efficient design and procurement workflow practices.
This will be achieved through BIM-MEPAUS and PowerCad having a complementary content strategy, whereby PowerCad provide expertise during BIM-MEPAUS workshops, to ensure relevant shared parameters are incorporated in BIM-MEPAUS content created by Autodesk and A2K Technologies. Including these additional shared parameters allows BIM-MEPAUS content to communicate directly with PowerCad design software, therefore improving integration of software and processes. This content strategy is aligned to the BIM-MEPAUS national shared parameter scheme and the BIM-MEPAUS specification development programme.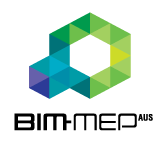 About BIM-MEPAUS
TBIM-MEPAUS is a global leading national industry initiative that develops best practice virtual design to physical construction BIM MEP standards, for the Australian construction and building services industry. This is achieved through:
A structured and consistent approach to modelling practices and data management
Reliable and accurate Design to Commission As-Built and Design to Fabrication workflows
Industry standardization delivering improved supply chain integration and efficiency
To learn more about BIM-MEPAUS Click here.